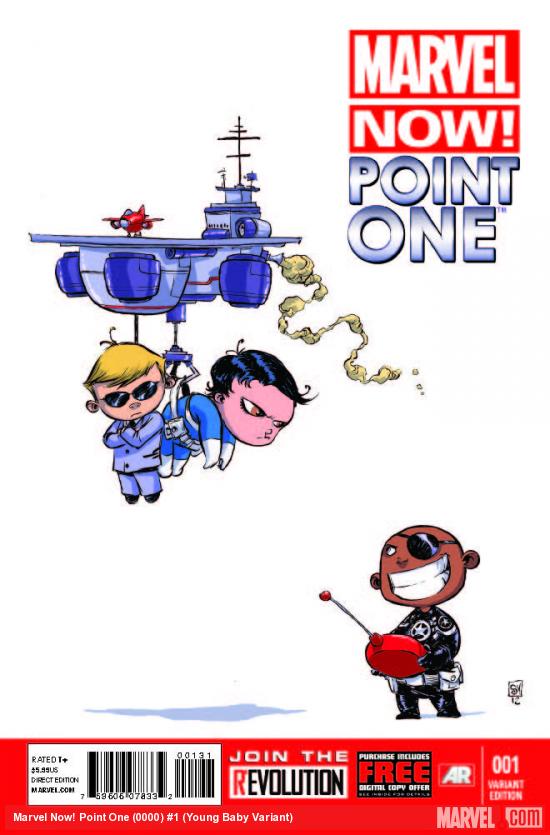 This week we have 10 new comic books featuring an appearance by the ever-lovin' Spider-Man.
Marvel Now is in full swing and picking up steam each week. This week we get the teaser book for the event -- Marvel Now Point One #1 along with its 4 covers.
The latest issue of Marvel Super Heroes Magazine #4 is out and is interesting in that it sports a newsstand bar code. I figure Marvel is shaving a few bucks here by printing the magazine mainly for bookstores and magazine outlets, and shipping some of those copies to comic shops. It's probably cheaper, and I can't imagine comic shops are ordering heavy on this.
Here's this week's list...
Avengers Assemble #8
Dark Avengers #182
Marvel Now Point One #1
Marvel Now Point One #1 (Quesada Variant)
Marvel Now Point One #1 (Quesada Sketch Variant)
Marvel Now Point One #1 (Baby Variant)
Marvel Super Heroes #4
New Avengers #31
Ultimate Comics Spider-Man #16
Venom #26
On a side Spider-Man note, rumor has it Spidey will be killed off by the end of the year, so who knows what's in store after that point. Who will be Spider-Man in the new Superior Spider-Man series starting in January (based on the clues so far, I thought maybe Spider-Man 2099, but the rumor mill is Alpha putting on the costume)? Will the other Avengers know what is going on?
Will a bunch of fans take this as an opportunity to stop collecting Spider-Man comics all together? I certainly know quite a few people with that plan in mind. Between the abundance of variant covers Marvel floods the market with, and the prospect of killing off the character (even though we all know he'll come back eventually) - there will be collateral fan damage. Marvel is likely banking on an influx of new buyers to replace them though. The circle of life, I guess.
Enjoy your week. Visit your local comic shop!